The Community That Was Once Called Bronzeville
December 7, 1941 – the Imperial Japanese Navy bombs the US naval base at Pearl Harbor. Two months later, President Franklin D. Roosevelt signs Executive Order 9066, forcing approximately 120,000 men, women and children of Japanese decent on the West Coast to leave their homes and businesses, and live in internment camps. Little Tokyo, Los Angeles became a ghost town.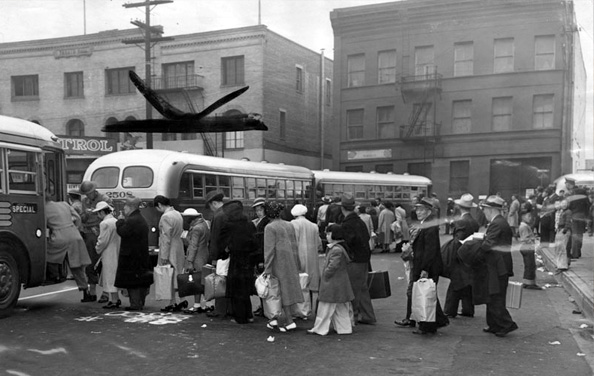 Photo: Japanese Americans boarding busses to be taken to internment camps, KCET
The 1940s also saw the Second Great Migration; African Americans from the Deep South, seized the opportunity to live and work in Los Angeles and populated the vacant Little Tokyo neighborhood. Restrictive covenants imposed by white property owners largely prevented them from moving anywhere else but the "minority neighborhoods" (Source: KCET). By 1943, LA's Japantown transformed into the heart of black LA: Bronzeville.
Rhythm and blues filled the streets as bars and night clubs sprung up. War workers, flushed with disposable income, patronized various night clubs, called "breakfast clubs", so called because they stayed open all night until breakfast time. Among the best known Bronzeville breakfast club was Shepp's Playhouse on 1st and Los Angeles St (Source: LTSC).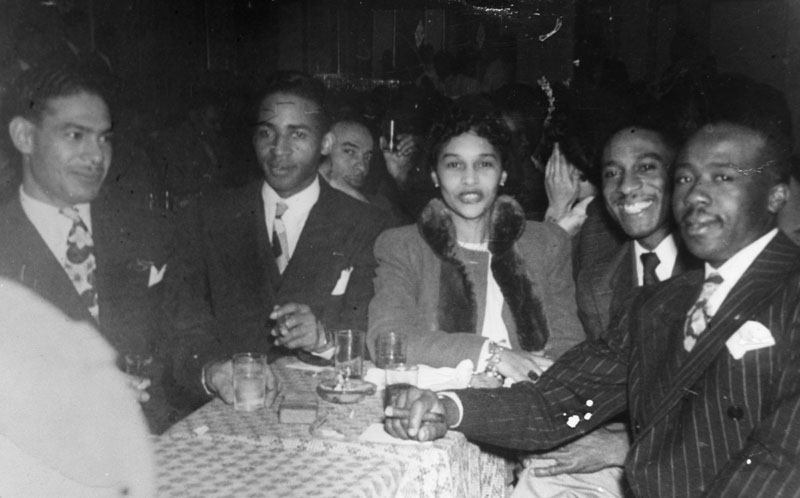 Photo: Patrons enjoying the all-night breakfast club, Shepps Playhouse, LA Meekly
As more people moved in, slum conditions developed, resulting in severe overcrowding and the spread of infectious diseases. Pilgrim House, a social service agency was formed to provide health services, housed in the building that is today's Union Center for the Arts (Source: Discover Nikkei).
By early 1945, Japanese Americans were released and many of those who lived in Little Tokyo returned back to their homes, urged to build good interracial relations with the neighborhood's new residents. Mr. Kiichiro Uyeda, who was recognized as the first returning Japanese American to re-open a business in the area, bought the lease to the Bronzeville 5-10-25-Cent Store and attempted to foster positive race relations by hiring African American workers. In turn, African Americans such as Samuel Evans, who ran the Bamboo Room on First and San Pedro, hired returning Japanese Americans (Source: Discover Nikkei).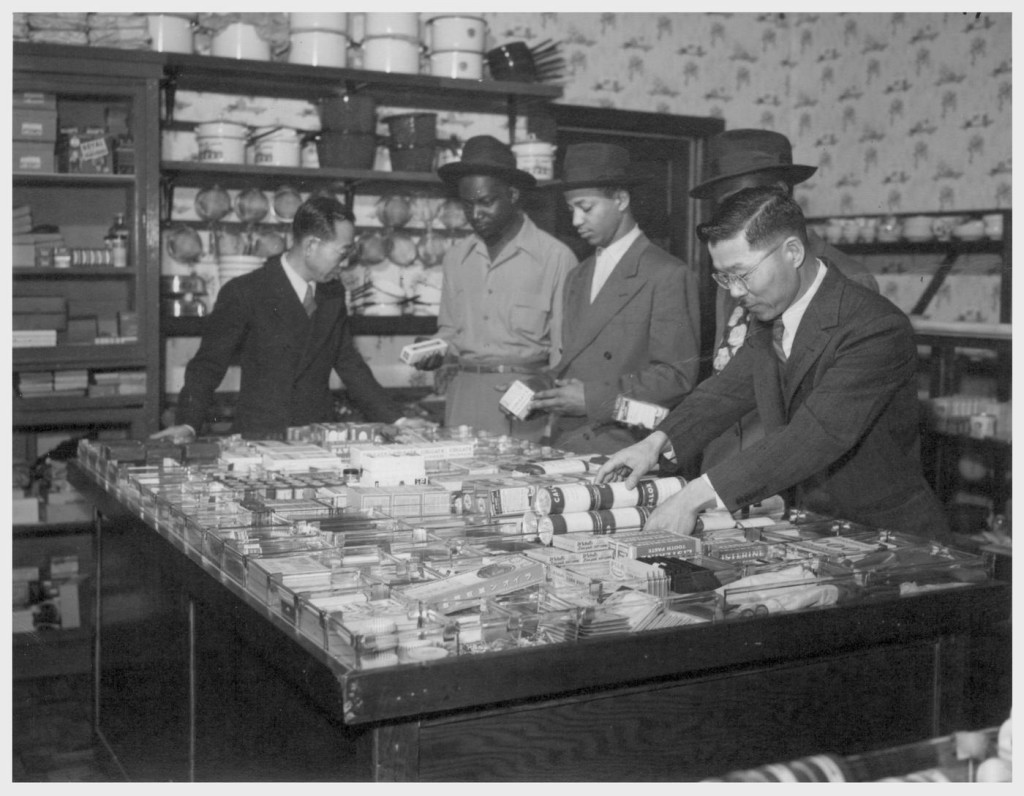 Photo: Mr. Kiichiro Uyeda (right), in the Bronzeville 5-10-25-Cent Store, Amoeba
Today, Bronzeville, Los Angeles has little trace, with the last Brozeville-era business closing shop in the 80s. In 2011, the story of assimilation and discrimination felt by both Japanese and African Americans in the 1940s was revived by the Robey Theatre Company with five encore performances of the play, Bronzeville.
---
On Saturday, February 13th, 2016, with support from the Bronzeville Prodcution Team, the Little Tokyo Branch of the Los Angeles Public Library and the Little Tokyo Historic Society presents, a live performance of an exert from the play, Bronzeville. For more information, visit www.lapl.org.
published on February 11, 2016